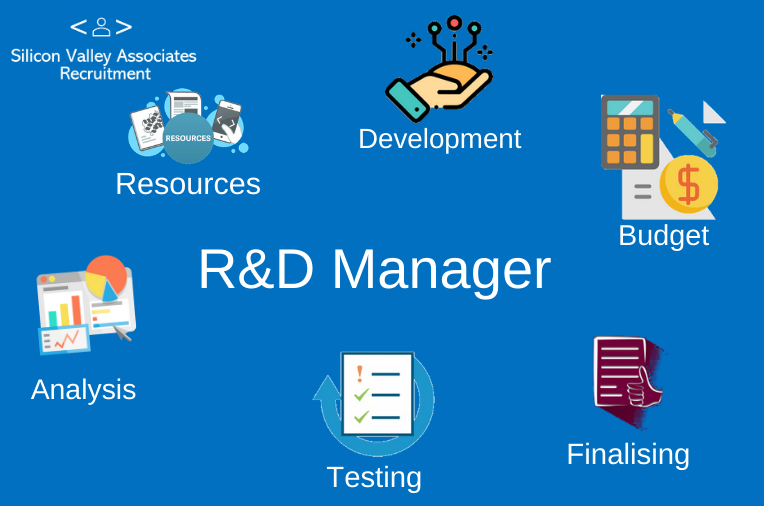 With over ten years of professional experience and a solid track record as an IT recruitment in Dubai, Silicon Valley Associates Recruitment is dedicated to helping IT professionals gain access to the industry's best opportunities. Our IT recruiter's mission is to help you find tech jobs that are both fulfilling and beneficial to your career ambitions.
When launching a new product or service, a company needs to undertake adequate planning and preparatory steps. That's because the act of introducing a new product to the market must take into consideration several factors to ensure success and profitability. Market research, timing, and consumer landscape, among others, all come into play.

A Research and Development Manager is the type of professional a company needs in order to successfully launch a profitable product or service. They manage the undertaking of necessary planning and preparation steps to make sure that what is launched is not half-baked. Holding a very important role in an organization, a Research and Development Manager oversees the entire development process — from the initial planning phase all the way to implementation.

Responsibilities of a Research and Development Manager
Ensure that all product or service launches and programs are implemented on time and according to budget
Conduct research on the entire phase of development
Analyze results after the implementation of a project
Give recommendations for improvements or innovative solutions
Guide the research and development staff members on a daily basis
Request a budget from upper management and allocate funds for development projects
Be familiar with new development trends and innovations to ensure that the company stays relevant and up-to-date

Are You a Research and Development Manager Looking for a Job in Dubai, UAE?
The journey towards corporate growth cannot be said to be an easy task. Neither can it be accomplished overnight. Many businesses spend years of planning and preparation before successfully fostering organizational development. But throughout the process, what should be done, and how are these to be carried out?

You, as a Research and Development Manager, can answer these questions. Because you possess the knowledge and expertise needed in order to drive a business towards growth and innovation, you're paving the route towards success from the very first step of the planning phase all the way to implementation.


Looking for a Research and Development Manager job in Hong Kong and Asia? Contact our IT recruitment agency and we'll help you access suitable companies for your talents and expertise.
How We Can Help
As a specialist IT recruitment agency, we have access to a pool of big companies who are on the lookout for IT and tech professionals such as yourself.
Our IT recruiters will guide you throughout your entire job search for digital marketing, keeping you updated on the demands of the IT and tech industry, helping you build your CV and portfolio, and giving you unbridled access to tech companies and IT departments where you can acquire a job in Dubai, UAE.
---
You might also be interested in our Free Tools and Resources.
Visit our Job page for more Job opportunities and the Current Candidate page for available candidates.
Follow Us On: