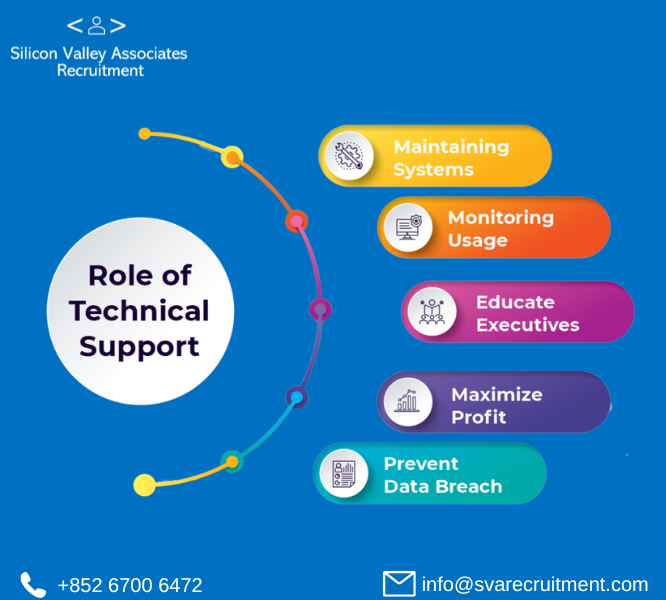 Our IT recruiter works diligently to ensure you secure the best candidate through rigorous screening processes and interviews. Feedback is readily available throughout the process, making Silicon Valley Associates Recruitment your ultimate recruitment and talent acquisition partner!
Providing post-sales technical support is key to retaining customers and increasing repeat sales, ultimately earning more revenue for your business. Research consistently confirms that it's simpler (and cheaper!) to keep current customers rather than attract new ones – making customer service an invaluable asset in today's competitive market. In addition, investing time and effort into consumer satisfaction will create lasting relationships with them throughout the years!
Responsibilities of a Post-Sales Technical Support Professional
Provides customers with assistance on technological merchandise
Provides services that help a customer utilize a product
Assists 24 hours a day, seven days a week
Proactive support, monitoring, and devising solutions for customer aid
Why You Need a Post-Sales Technical Support Professional
Retaining customer loyalty is paramount for any successful business. Beyond just a single sale, businesses must nurture their relationship with fully satisfied customers who keep returning to make repeat purchases and benefit from ongoing support and assistance.
Having earned your customers' trust with a successful purchase, you can go beyond one transaction and secure their loyalty through post-sales technical support. Your brand's success depends on keeping consumers satisfied by being there for them every step of the way – that means having highly skilled customer assistance professionals available when they need help using products or solutions.
Are you tired of endlessly searching for the perfect Post-Sales Technical Support Professional? Our IT recruitment agency is here to help! We'll ensure you access a pool of talented individuals who meet your high standards – that can work within Dubai and fit perfectly with whatever specific personnel requirements are needed. So let us do the hard work while you enjoy finding ideal candidates stress-free!
How We Can Help
Our IT recruitment agency is an invaluable source for your company's success. We excel at finding and bringing you the ideal IT professionals from Dubai, taking care of every step in the hiring process. With us on board, trust that you'll get top-notch candidates to fill any role!
Our expert IT recruiter is here to guide you through the entire hiring journey, from screening candidates to arranging interviews and providing valuable feedback. With Silicon Valley Associates Recruitment supporting your talent acquisition endeavors, finding top-notch employees has never been easier!
---
You might also be interested in our Free Tools and Resources.
Visit our Job page for more Job opportunities and the Current Candidate page for available candidates.
Follow Us On: