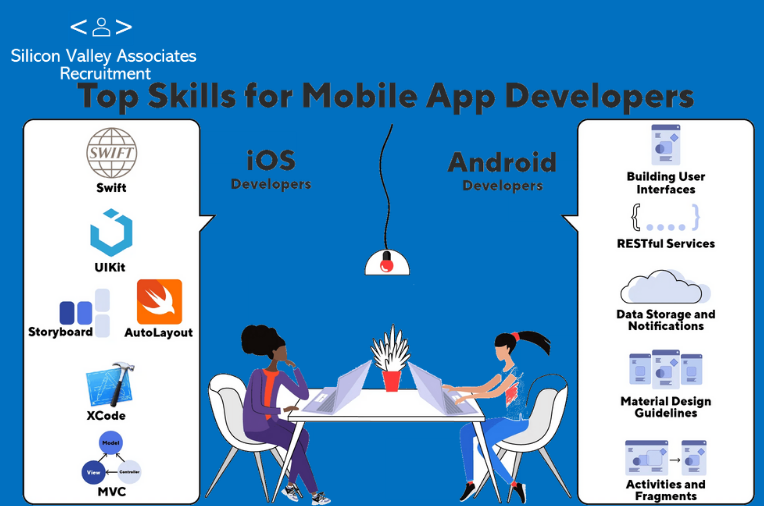 The software development field is bursting with specialized niches. For instance, mobile developers specialize in creating breathtaking applications and innovative solutions for the ever-popular Android and IOS systems by Google and Apple, respectively. It's truly a captivating area of technology!
The digital era we are in today has seen a massive spike in mobile usage, leading to an ever-growing demand for professionals skilled enough to meet the requirements of this modern world. Consequently, there is an abundance of opportunities and potential within developing applications – what will you create?
Responsibilities of a Mobile Developer
Discussing application ideas and insights that the corporation aims to venture into
Developing application programming interfaces to support mobile functionality
Staying updated and informed on current coding solutions and mobile application trends
Scouting for web applications that can be converted to mobile interfaces
Monitor and constantly improve mobile application designs, bug fixes, and maintenance
Why You Need a Mobile Developer
With the increasing use of mobile devices, lesser people are looking at websites and applications through computer or laptop screens. They now have their handy mobile devices for that. And businesses need to adapt to that change by making themselves visible on mobile-friendly platforms because it's where the market is. 
For businesses big and small, it's a no-brainer that having mobile solutions is essential for success – but how can you actually execute this? The answer lies with an amazing mobile developer. Their expertise in coding gives them the power to shape modern technology by building tailored applications designed to fit your corporate needs. Make sure you take advantage of their skills!
In the market for a Mobile Developer? Our IT recruitment agency can help you connect with top-tier professionals searching for their dream job in Dubai. We'll match your personnel prerequisites and high qualification standards – so don't hesitate to get in touch!
---
You might also be interested in our Free Tools and Resources.
Visit our Job page for more Job opportunities and the Current Candidate page for available candidates.
Follow Us On: