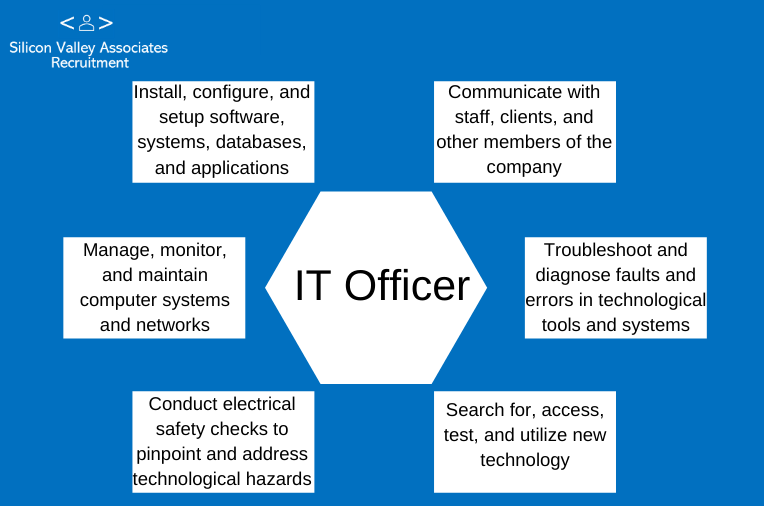 Companies today must embrace technology to stay competitive and thrive in the modern age. Many businesses are tapping into tech solutions, exploring innovative tools, and finding ways to use cutting-edge equipment for their operations. However, many organizations could struggle down the line without specialists available to troubleshoot or improve these technical systems when necessary.
IT Officers are indispensable to any organization as they provide the knowledge and expertise necessary to safeguard computer systems. From diagnosing technical issues, monitoring networks, and ensuring the performance of mission-critical functions, these professionals possess all essential skills needed for a smoothly functioning technology environment – with the assurance that even in times of failure or system errors, an effective resolution is never too far away.
Responsibilities of an IT Officer
Install, configure, and set up software, systems, databases, and applications.
Manage, monitor, and maintain computer systems and networks
Communicate with staff, clients, and other members of the company and help them address technological issues
Troubleshoot and diagnose faults and errors in technological tools and systems
Conduct electrical safety checks to pinpoint and address technological hazards
Search for, access, test, and utilize new technology
Why You Need an IT Officer
Dedicated maintenance is essential to keep your technology running at its best and help you reach new heights of success in achieving corporate goals. Only expert IT officers – with their invaluable skillset and expertise – can provide the comprehensive diagnostic care necessary to maintain these vital tools.
Are you seeking an IT Officer? Connect with our IT recruitment agency and gain access to skilled professionals searching for the perfect role in Dubai. Our team will tailor your search criteria, ensuring you find someone who meets core qualifications and aligns with your personal preferences.
How can we help
Let our recruitment agency be your guide along the journey of finding top-notch IT professionals for your business. Our tailored approach and in-depth know-how ensure you get access to a diverse range of qualified candidates, providing smooth navigation toward hiring success here in Dubai! 
At Silicon Valley Associates Recruitment, we provide a personal touch to your hiring and talent acquisition journey. Our IT recruiter will help you every step of the way – creating custom screening efforts, organizing interviews efficiently, and providing thoughtful feedback afterward. We are here to be your trusted companion!
---
You might also be interested in our Free Tools and Resources.
Visit our Job page for more Job opportunities and the Current Candidate page for available candidates.
Follow Us On: