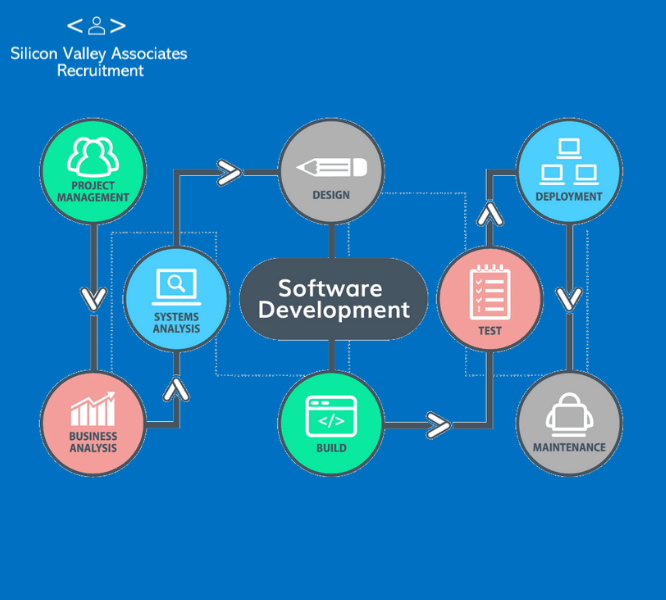 With over ten years of professional experience and a solid track record in IT recruitment in Dubai, Silicon Valley Associates Recruitment is dedicated to helping IT professionals gain access to the industry's best opportunities. Our IT recruiter's mission is to help you find tech jobs that are both fulfilling and beneficial to your career ambitions.
Technology has greatly simplified the way businesses operate. What once was done manually and could take up a lot of time and effort can now be done in a matter of seconds with the help of software. Indeed, the lives of corporations and individuals alike have been made easier and quicker thanks to technology.

That's why software development companies continue to innovate their products and services, looking for new and valuable applications and programs in computer systems. And many are effectively making use of these for the purpose of efficiency.

What do Software Companies Do?
Software companies dive deep into the realm of IT and tech in order to find software opportunities. When they do, they come up with plans in order to maximize their utilization and functions. They create useful programs that could be beneficial and yearned for by their consumers — which are often other corporations and businesses.

Software companies solve common pains in the world by finding simplified and quick solutions in the digital sphere. They always aim to produce and develop something that will be useful and valuable to their target market.

How We Helped Software Companies
The realm of IT and tech is very niched. To be able to navigate it and, more so, develop software out of it, requires specialization in the field. Software companies need talents who have the skills, expertise, and technical background required for such a specific and complex job. Hence, they are constantly in search of IT and tech professionals to fill in gaps in their corporate rosters.

Our IT recruitment agency has helped software companies access and acquire talents that will suit their organization. Keeping in mind the nature of their business and the requirements their candidates should possess, we have provided them with the right professionals who can serve as real assets to their company.

Looking for talent to join your software company? Contact our IT recruitment agency and we'll help you access talented individuals looking for a job in Dubai, UAE.
---
You might also be interested in our Free Tools and Resources.
Visit our Job page for more Job opportunities and the Current Candidate page for available candidates.
Follow Us On: