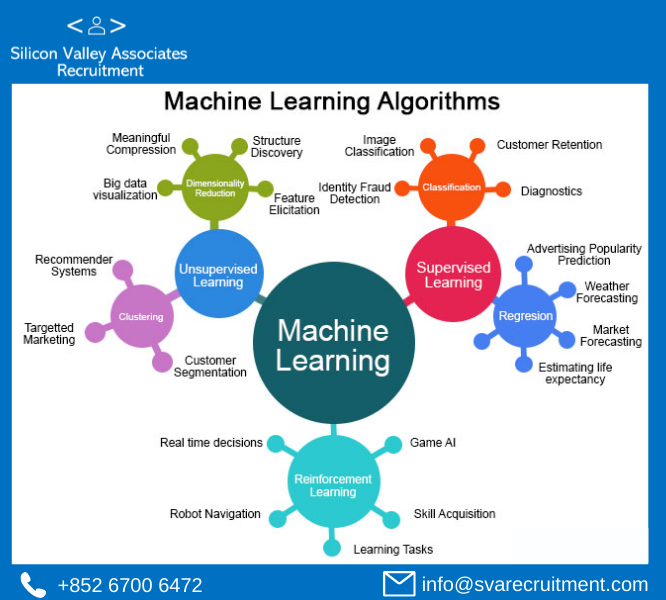 With over ten years of professional experience and a solid track record in IT recruitment agencies in Dubai, Silicon Valley Associates Recruitment is dedicated to helping IT professionals gain access to the industry's best opportunities.
Our IT recruiter's mission is to help you find tech jobs that are both fulfilling and beneficial to your career ambitions.
If you think of technology in today's day and age, you can probably name dozens of technological devices and innovations we have. Indeed, technology has developed a lot over the years. There are new inventions and findings every so often. But we are still so far from reaching the peak of opportunities that tech has to offer.

Technologists and experts in the technological realm continue to explore and study the field. They constantly try to look for ways to tweak processes and functions in order to widen the utilization of tech. The field of machine learning and robotics, in particular, studies a bunch of different techniques to allow robots to adapt skills and new functions.

What do Machine Learning and Robotics Companies Do?
Companies in the Machine Learning and Robotics industry spend their days conducting research and studies on technologies. The goal is to come up with innovative solutions in order to cause robots and machines to adapt to their environments and develop new tactical and useful skills. Some examples are active object characterization, locomotive skills, interactive capabilities, grasping, and linguistic skills.

How We Helped Machine Learning and Robotics Companies
The machine learning and robotics industries involve interaction with different technological tools and machinery. It also requires a vast knowledge of tech concepts as well as the capability to learn and develop one's skills. The field is very dynamic and ever-changing. Hence, machine learning and robotics companies are constantly in need of new minds and hands to aid their ventures.

Our IT recruitment agency has helped Machine Learning and Robotics companies access and acquire talents that will suit their organization. Keeping in mind the nature of their business and the requirements their candidates should possess, we have provided them with the right professionals who can serve as real assets to their company.

Looking for talent to join your Machine Learning and Robotics company? Contact our IT recruitment agency and we'll help you access talented individuals looking for a job in Dubai.
---
You might also be interested in our Free Tools and Resources.
Visit our Job page for more Job opportunities and the Current Candidate page for available candidates.
Follow Us On: