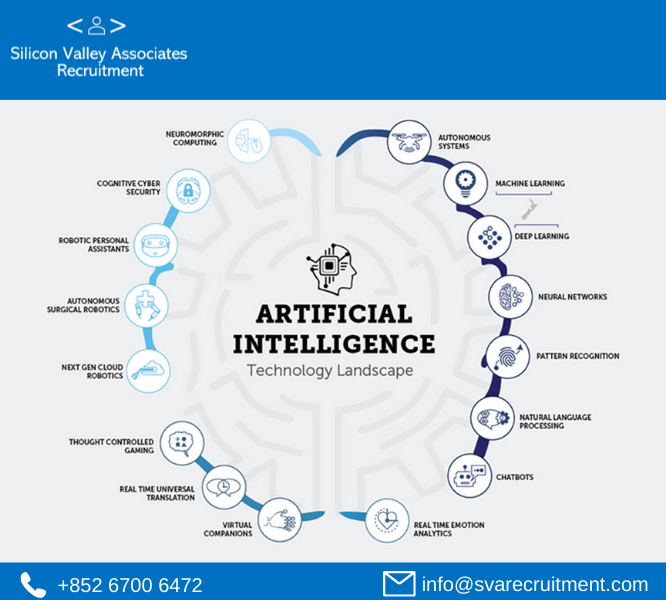 With over ten years of professional experience and a solid track record in IT recruitment agency Dubai, Silicon Valley Associates Recruitment is dedicated to helping IT professionals gain access to the industry's best opportunities.
Our IT recruiter's mission is to help you find tech jobs that are both fulfilling and beneficial to your career ambitions.
Artificial intelligence is an industry that has grown rapidly. Everywhere in the world, you can encounter quite a handful of startups getting into artificial intelligence.

More and more people are exploring and trying to navigate computer and machine intelligence, trying to replicate the human brain and enable them to perform mundane tasks. There are many innovations now that make our lives so much easier. And AI aims to further develop those innovations in order to provide ease and convenience for daily life.

What do Artificial Intelligence Companies Do?
Companies in the field of study pertaining to artificial intelligence are those working towards developing and utilizing this technology. They create models, systems, devices, and the like, replicating human action in machinery. This is in an effort to reach further advancement in the realm of tech.

This is indeed a booming field of technology and business enterprise that many want to explore. But there also lies the challenge of transitioning from a pure tech industry to becoming more relative to the corporate landscape. Hence, AI companies are continuously studying and researching the possibilities in the field.

How We Helped Artificial Intelligence Companies
Artificial intelligence is a field of study that encompasses three technical fields: technology, science, and business. You can also throw in niches such as engineering and IT in there too. True enough, the research and development efforts involved will require a great deal of knowledge in many specialties. That's how complex the subject matter of AI is.
Our IT recruitment agency has helped Artificial Intelligence companies access and acquire talents that will suit their organization. Keeping in mind the nature of their business and the requirements their candidates should possess, we have provided them with the right professionals who can serve as real assets to their company.

Looking for talent to join your Artificial Intelligence company? Contact our IT recruitment agency and we'll help you access talented individuals looking for a job in Dubai, UAE.
---
You might also be interested in our Free Tools and Resources.
Visit our Job page for more Job opportunities and the Current Candidate page for available candidates.
Follow Us On: