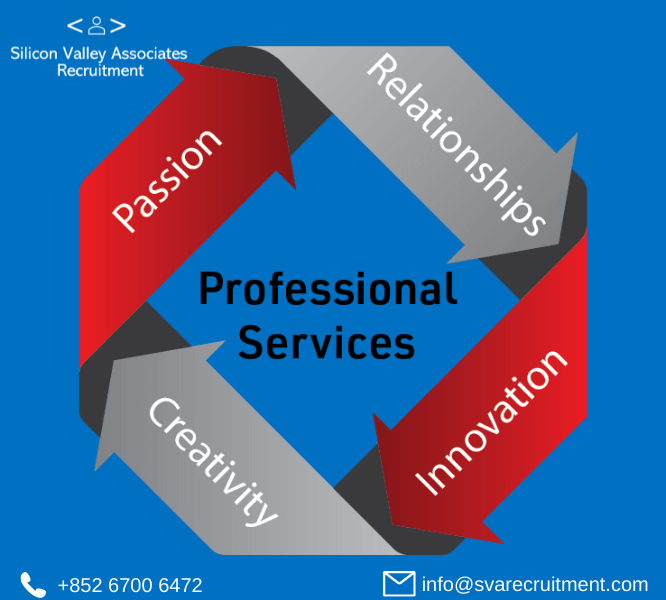 With over ten years of professional experience and a solid track record in IT recruitment agencies in Dubai, Silicon Valley Associates Recruitment is dedicated to helping companies gain access to the industry's best IT professionals.
The professional services industry is a host to a wide array of different niches and specialties commonly requiring special training in the sciences or the arts. There are doctors, lawyers, engineers, accountants, specialist IT recruitment consultancy, and architects on one hand. And on the other hand are artists, writers, coaches, etc.

What characterizes the professional service industry are their skills, knowledge, experience, reputation, capacity, ethics, and creativity to take on the job. When brought together, all these varying niches have significant contributions to the economy and corporate landscape.

IT Departments in Professional Services
Because professional service firms often rely on the skills and expertise of individual people to carry out the jobs, IT and tech have still become the essential requisites in the industry's growth and development.
Some of the most beneficial tech innovations for the professional services industry are those that foster the business model of talent and services on-demand, automation, and magical user experience. To bring their services into the light and solidify the value they give to their customers or clients, they need to utilize technology to improve their efficiency, operational flow, and productivity, among others.

How We Helped Professional Services IT Departments
To maximize the opportunities that tech has to offer in the professional services industry, they need professionals who are not only experienced and talented in the realm of IT and tech. They also need their talents to be able to adapt to the specialized needs of the professional services industry. Hence, a job in the IT department of a professional services company requires skills and expertise in two areas of study.

Our IT recruitment agency has helped professional services companies access and acquire talents that will suit their IT departments. Keeping in mind the nature of their business and the requirements their candidates should possess, we have provided them with the right professionals who can serve as real assets to their company.


Looking for talent to join your professional services company's IT department? Contact our IT recruitment agency and we'll help you access talented individuals looking for a job in Dubai, UAE.
---
You might also be interested in our Free Tools and Resources.
Visit our Job page for more Job opportunities and the Current Candidate page for available candidates.
Follow Us On: