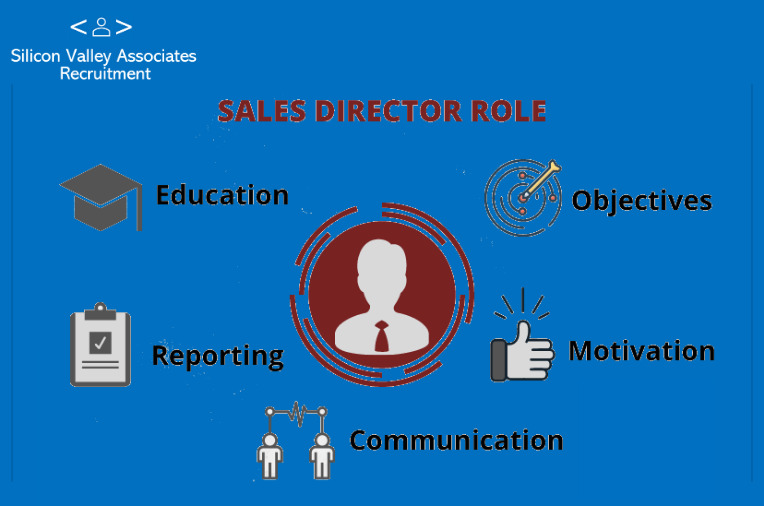 Silicon Valley Associates Recruitment is a leading IT recruitment agency in Dubai and a leading provider of jobs in UAE. Our IT recruiter's mission is to help you find tech jobs that are both fulfilling and beneficial to your career ambitions.
For larger companies, their sales and marketing team is usually spearheaded by a Sales Director. The position is a high-ranking executive job that involves crafting sales plans for both national and international platforms, directly reporting to CEOs and other executives to seek approval or feedback regarding sales strategies, and supervising managers and heads within the sales and marketing departments.
A Sales Director has the most important job of all, which is not limited to keeping tabs on and supervising personnel under his or her leadership. In fact, from the stems all the strategies and plans that keep a business going and maintain or boost its profitability.

Responsibilities of a Sales Director
Scout and form strong networks with both big and small players in their industry
Overseeing sales managers in the department, usually in different office locations around the world
Identifying valuable emerging markets that the company can tap
Foreseeing future sales trends and coming up with plans to adapt or improve existing strategies
Serves as the business's representative in external events and conferences
Crafting sales strategies to keep the company competitive, relevant, and profitable.

Are You a Sales Director Looking for a Job in Singapore and Asia?
The job of a sales director is wide in scope but can be categorized as maintaining the profitability of the company for the years to come. All industries are prone to rapid change and development, and companies that cannot meet the demands of the times would not see any profit or growth. But Sales Directors can change that.
With your expertise and well-versity in predicting or foreseeing market trends, you can equip companies with the right strategies and methods either to adapt or turn the market trends to their advantage.
Looking for a Sales Director job in Dubai, UAE? Contact our IT recruitment agency and we'll help you access suitable companies for your talents and expertise.
---
You might also be interested in our Free Tools and Resources.
Visit our Job page for more Job opportunities and the Current Candidate page for available candidates.
Follow Us On: