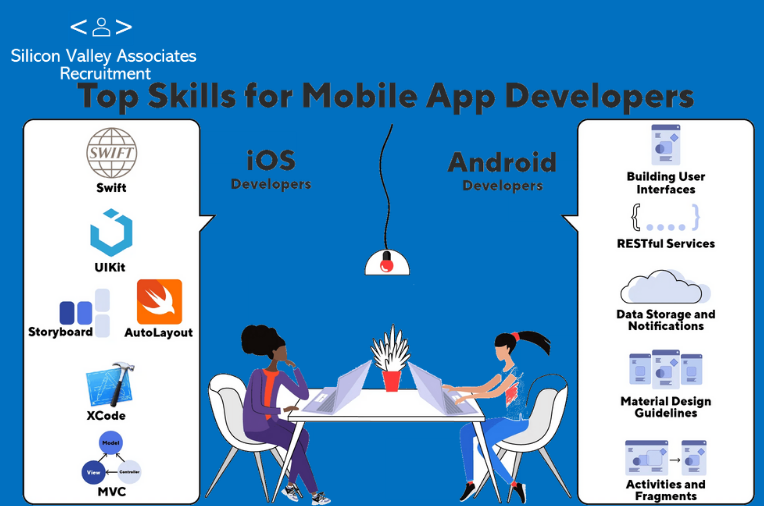 With over ten years of professional experience and a solid track record in an IT recruitment agency in Dubai. We are dedicated to helping IT professionals gain access to the industry's best opportunities. Our IT recruiter's mission is to help you find tech jobs that are both fulfilling and beneficial to your career ambitions.
Software development is not a specific niche that has generalized functions across different platforms. In reality, there are several specializations within the niche, one of which is the focus on mobile technology. Particularly, mobile developers specialize in creating applications and software solutions for Google's Android and Apple's IOS systems.

If you take a look at the proportions of Internet usage, you'll find that mobile use is the most prevalent. Hence, the increasing demand for experts in developing applications and keeping up with the demands of the modern digital era.

Responsibilities of a Mobile Developer
Discussing application ideas and insights that the corporation aims to venture into
Developing application programming interfaces to support mobile functionality
Staying updated and informed on current coding solutions and mobile application trends
Scouting for web applications that can be converted to mobile interfaces
Monitor and constantly improve mobile application designs, bug fixes, and maintenance

Are You a Mobile Developer Looking for a Job in Dubai, UAE?
With the increasing use of mobile devices, lesser people are looking at websites and applications through computer or laptop screens. They now have their handy mobile devices for that. And businesses need to adapt to that change by making themselves visible on mobile-friendly platforms for the main reason that it's where the market is.

Research would tell you that many users would leave a site or application that is not mobile-friendly. But how exactly do you utilize mobile software and applications for your corporate needs? You, as a competent mobile developer, can answer and address that. Backed by your skills and coding knowledge, you can create and develop solutions applicable to the realm of mobile technology.


Looking for a Mobile Developer job in Dubai, UAE? Contact our IT recruitment agency and we'll help you access suitable companies for your talents and expertise.
---
You might also be interested in our Free Tools and Resources.
Visit our Job page for more Job opportunities and the Current Candidate page for available candidates.
Follow Us On: